City of Lynchburg Virginia
Lynchburg Virginia is our closest large City, within a 20 minute drive from the Town of Appomattox.
Shopping and Services
Along with mall shopping, Lynchburg has its newly renovated  music theater; baseball team and stadium; Old Town Main Street, with its farmer market, quaint shops, fabulous bars and restaurants; Lower Bluff Walk; new loft housing; river entertainment; fabulous office & art space; movie theaters, and much more.

                                     Bluff Walk overlooking the James River
Liberty University
The most prominent entity in the City is Liberty University, largest Christian college in the world, with an enrollment of over 100K students, on-site and on-line.
Along with all the typical assets of a university, Liberty has a beautiful Student Hall and Library, a hockey rink, a ski slope, an outdoor and indoor football field, a new music auditorium, a huge indoor stadium, new student housing, on campus diner, etc.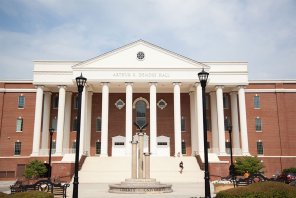 Liberty University
Lynchburg Regional Airport
The Lynchburg Airport is one of the most beautiful small airports in Virginia and the USA.  Flights leave the airport by American Airlines, to Charlotte NC, changing to DC and all other areas.
The airport also has general aviation flights by private aircraft, Jet charter, military planes, and flight training, out of Freedom Aviation, owned by Liberty University.
Lynchburg Regional Airport
Other Transportation
Explore Lynchburg
Established in 1786, Lynchburg holds an important place in American history. Small town charm and sweeping views of the James River and famed Blue Ridge Mountains have set a backdrop for everything from Civil War battles to plantations, wineries, lush gardens, countless cultural and outdoor activities, annual festivals and events and Poplar Forest, the home of Thomas Jefferson. Conveniently located halfway between Washington, DC and Raleigh, NC, Lynchburg is easily accessible via Amtrak.
Local attractions include:
Links: