Area Schools, Colleges, Universities
ACPS – Appomattox County Public Schools   Link
Mailing:   PO Box 548, Appomattox, VA 24522  
Board Office:   316 Court Street, Appomattox, VA 24522                                              
Phone: 434-352-8251   Fax: 352-0883   Brenda – Administrative & Board Assistant
All our county public schools are

FULLY ACCREDITED

 by the State of Virginia

Third Year in a row – 2015, 2016, 2017

State of the Schools as of  November 9, 2017   Power Point Revie

w
      Virginia's Public Schools Ranked 6th in the Nation
School Quality Profile – Virginia Department of Education
Virginia has the 6th best school system in America for 2017.  Article presented by staff at WDBJ ch7. 

Analysis included 50 states, plus the District of Columbia, were compared, using 21 key measures.

Congratulations to all the Teachers, Boards, Superintendents, and Staff, for this accomplishment.
Primary School – K-2 grades
Elementary School – 3-6 grades
Middle School – 6-8 grades
High School – 9-12 grades
         Rankings 2017:  
Rankings – ACPS is one of two school divisions in Region 8 fully, accredited and Region 2000 with ALL schools fully accredited.

95% on-time graduation rate 2017

Region 2000 – 5 School Districts Appomattox     only one 100% fully accredited

Region 8  –     12 School Districts Appomattox    only one 100% fully accredited
College Prep Classes
While in High School:
Duel enrollment with Community College (CVCC)

Community College Classes

College Preparation Classes

Standard classes

Advanced classes

STEM classes

Governor's School

Future Teachers – VA prospective teachers can now get their credential, with just a 4 year college degree.  They can earn college credits while training in high school.

Other

Chorus

Art

Theater/Drama

Marching Band – VA Grand Champions 2017

Languages-French-Spanish-Latin (on-line)

Economics and Personal Finance

Year Book

Project Graduation

Trade Classes

Auto Technology-Vehicle Inspector License

Culinary Arts certificate

Vet Program

Agriculture Program

Farm Management

Business Program

Marketing Program

Nurses Aid

Drafting-Mechanical/Technical Drawing

Nuclear Science

Computer System Technology

Keyboarding

Coding

Athletic Training

Welding

Floral Design

Landscape & Greenhouse

Child Development & Training

CVCC – Community College – Satellite in Appomattox – limited classes

Lynchburg – Additional Certificates 2018

Fire & Emergency Medical Services

Health Services Fundamentals

Introduction to Hospital Management

After School Programs

Drone Club

Sports

Band

Day Care

Apprenticeships

Computer access

Adult education – GED+

Cheer Leading

Sports

Football – High School #1 Title in Virginia

Baseball

Soccer

Swim & Dive

Tennis

Golf – High School #1 Title Class 2 – Oct. 2017

Second  State win in 3 years

Vollyball

Basketball

Cross Country

Wrestling

Track

Soccer

After school clubs

Reading, writing and arithmetic are the  fundamental staples of American education. However, the educational experience for students does not need to be confined to traditional courses. The Appomattox Elementary School(AES) offers students in third through fifth grades an opportunity to participate in alternative learning classes in its After

School Clubs program.

Science, Technology, Engineering,and Mathematics (STEM), Gardening,Sports, Coding, No-Cook Cooking,Spanish, Archery, Kids on Patrol(KOP), Carpentry, Nail Painting, Dance, Coloring, Cross-Stitch, Sign Language,and many more.

After School Clubs create fun ways to learn skills.  Times Virginian 11/17/2017

Drone Club – Build, fly and repair unmanned aircraft for a variety of uses.  Jason Clark, program instructor – ACPS granted two grants – News and Advance 2/10/2018

Additional Accomplishments:

Appomattox County High School SkillsUSA Team 3-Peat for State Title – 2018

They placed 1st in their contest and are once again, STATE CHAMPIONS

Bryce Gunter, Coach Mr. Jason Clark, Nathan Simpson, and Liam Bennett

Notes:

12/12/2017  The Virginia Board of Education voted last month to become the first state to adopt mandatory computer science standards for all students.

12/11/2017  Governor

McAuliffe ordered the Virginia Board of Education to implement an emergency regulation that would allow the state's public colleges and universities to start offering undergraduate students a major in education by March 1, 2018.
Appomattox Christian Academy
Appomattox Christian Academy (ACA) is the oldest Christian school in the county of Appomattox. We boast small class sizes, at all stages of academics, with individualized instruction from passionate, classically-trained teachers.
Their methodology is Classical. Their theology is Christian, Protestant, and Reformed.
As a mission of St. Andrew's Reformed Episcopal Church, Appomattox Christian Academy is able to educate the whole child: Body, Mind, and Spirit beginning as young as 3 and continuing through graduation at 12th grade.   
*  Sylvan Learning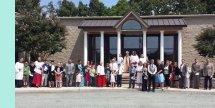 *  Accredited by the Association of Classical Christian Schools
*  Virginia Council for Private Education ( VCPE)
*  1916 Redfields Road,  Appomattox, VA 24522
Cornerstone Christian Academy
Cornerstone Christian Academy is a Classical, Christian school dedicated to providing excellence in academics while instilling Christian values and ethics. They are divided into four "schools" within one: preschool K4-K, 1st-6th grades,  7th-8th grades, and 9th-12th grades. Their student/teacher ratios are small to allow teachers to invest in each student at his or her level. Their staff members are highly qualified and feel a sense of calling to serve their Cornerstone families through this ministry.           

*  169 Police Tower Road, Appomattox, VA 24522